This site uses affiliate links within posts, sidebar ads, and in post ads. All proceeds go to support our family.
Welcome to our newest addition of the ABC's Of American History. This week is I for Independence is brought to you by Tracey from Unsocialized.
The American Revolution is a dynamic topic that can be explored in a variety of ways, with many available learning materials to easily build a unit study. The following is a list of free resources and some suggested study approaches. These materials are more for upper elementary grades, but can, of course, be adapted for other ages.
Causes of the Revolution: Visit Project Look Sharp for an elementary teaching kit on the Causes of the American Revolution. For each cause, there's a downloadable teacher's guide and student worksheet, plus a list of supplementary resources. The lessons involve not only learning facts, but analyzing primary documents and photos. For example, in one lesson, a description of the Boston Massacre is given from both the colonist and British perspectives. Other lessons include analyzing a Phyllis Wheatley poem, and comparing two 18th century "George" portraits (George Washington and King George III).
Another way to study the causes is to make mini lapbooks and foldables for each cause using this Hands-On-History download. It includes instructions for: a Q & A flip book on taxes; Boston Tea Party step book; mini book of Paul Revere's ride; and other projects.
Documents, Images, and Artifacts
Digital Declaration of Independence:  This interactive display of John Trumbull's painting includes a scan of the document, and a map of the hometowns of the signers. Click on the highlighted images of each person's head, and you're taken to that person's name. Click on a name, and see the person's signature on the Declaration. You can also pull up the person's hometown on a map, and a short biography.
Docs Teach: Here, you will find activities for studying the important documents of our country. One activity focuses on Ben Franklin's contributions to the founding documents. Students first review documents. (The lesson provides a series of steps to follow when analyzing any primary source, such as a document, image, map, etc.). Then students match the documents to a description of Franklin's contribution to an event. This activity can be pulled up on a computer screen and done as a group, or printed out.
Smithsonian Interactive Exhibit: Read about the American Revolution, and learn about various artifacts from the time period, such as muskets, uniforms, and dishes.
Archiving Early America: View important documents and ordinary writings, historical maps, rare images and portraits. You can also listen to music from various time periods.
Differing Viewpoints:  Webquest  in which learners view the war from the different perspectives of the people groups involved. Research different groups, such as African Americans, women, Native Americans, American Patriots, Loyalists, and Neutrals, to see how they were affected by the war, and what roles they played. Then write journal entries for each group. Some websites are provided for the research. Here are a couple more that provide information on African Americans  and women during the war.
Battles: At HistoryAnimated, you can read about the major Revolutionary War battles and view animated maps showing the progression and outcome of each.
Interactive Online Game: At Mission-US, you can play For Crown or Colony, a game in which you assume the role of a 14-year-old printer's apprentice living in Boston. By interacting with the various characters, such as merchants, Redcoats, ship workers from the West Indies, and historical figures, you learn about life in the colonies and events leading up to the war. The game is broken up into a Prologue, five parts, and an Epilogue. For each part, there are suggested activities, like review questions, writing prompts, and document analysis.
Lastly, you can download a free grade 4 reader, and activity book on the American Revolution developed by Core Knowledge Foundation. The reader has six chapters on the war, plus the following additional chapters: "Heroes and Villains," "The Legend of Sleepy Hollow," and "Rip Van Winkle." The teacher guide and activity book have review questions and vocabulary, spelling, and grammar exercises for each chapter.
Visit unSocialized for more free learning resources.
Did you miss the other posts in this series? Click on the picture to find the other letters.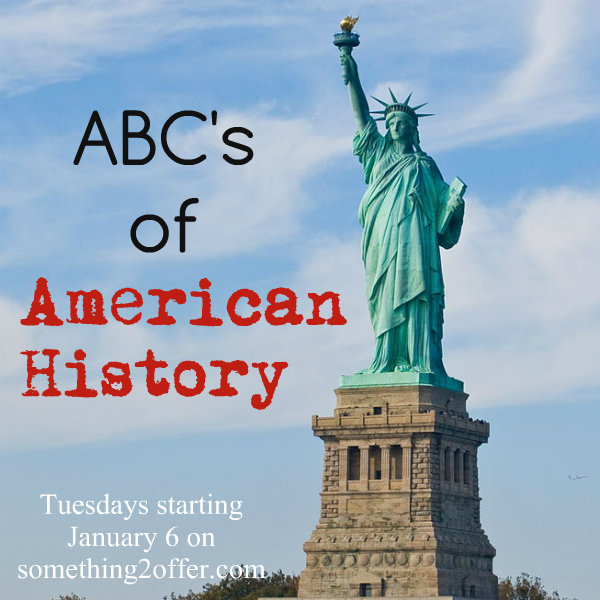 Come back next week to see what new resources we have to share while we learn all about the  letter J during the ABC's of American History.
Disclosure: Affiliate links were used by the post author to help support their blog. Thanks for checking out the resources they mentioned.