Free Horse Unit Study Resources
Just saw a post of a forum that a family was looking for resources to go along with FIAR books, The Wild Horses of Sweetbriar and The Finest Horse in Town. Both of these have to do with horses so I wanted to help out by doing a quick google search. Since I found so many wonderful and free resources I created this free horse unit study resource post to share!
 (Disclosure: There are affiliate links within this post. The links provide a way for us to support our site and provide great ideas and content to you! Thanks for your support.)
My daughter was very interested in horses a couple of years ago. So we did start a lapbook that we found free online as well as a 107 page Horse Unit Study from Oakes Homeschool Consulting co-op (a group of families got together and researched a topic and created a HUGE amount of information!). This mega resource is on sale for . 50 a complete steal if you ask me!
We checked out books at the library and tried to learn some things. We realized we needed some hands-on horse experience and so we called a friend of ours who owns a pony and some horses. She was gracious enough to let Princess and Eldest ride on Little Eddie while she lead him down her long lane. She also helped with what parts of a horse are called, grooming tools, and markings.
I am hoping that Princess gets the learning bug again about horses and we can finish the lapbook. I think listening to Black Beauty or watching a few movies about horses on netflix will spark some interest. Once again we will call our friend and even let Lil' Red ride if he'd like!
Lapbooks:
Click on each picture to find a resource!
 basic unit study created by homeschool mom
 Paid resources (affiliate links):
Book Specific Lapbooks & Guides:
Horse Treats:
Special Note:  Horses should not be fed peanuts, because they cannot digest them and it clogs their intestines. According to one vet, peanut butter will not hurt them.  Please use your own judgment or check with your vet when in doubt.
Easy to Make Horse Treat Recipes-All horses love treats and your horse will love your homemade horse treats. Making horse cookies and other goodies is easy and can be done using ingredients that you most likely already have.
Make Your Own Horse Treats: These are special treats for your favorite horse.
Ingredients:
1 cup of flour
1/2 cup molasses
1/2 cup vegetable oil
1 cup sugar
Grated vegetables or fruits such as apples or carrots
Directions: Preheat the oven to 350 degrees. Start by mixing the sugar, flour and fruits. Stir well. Add all other ingredients and mix well. Cook for 15 minutes. These should be crunchy when done.
MISC. Resources: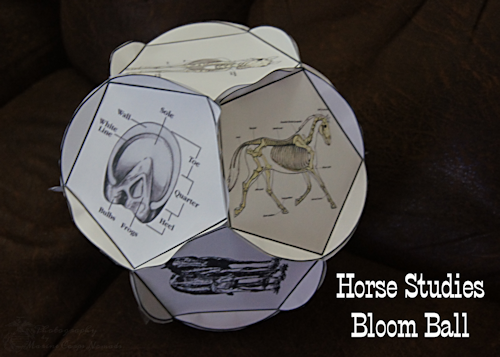 Anatomy– B&W labeled printable
Basic Horse Care– printable chart
Elementary Educator's Packet– info. from International Museum of the Horse
First aid-Learn how to handle an equine emergency. Find out what injuries you can treat yourself and figure out when you need to call a veterinarian.
Giddy Up and Go– 4-H website links and resources
History of the Horse– info. from International Museum of the Horse
Holistic Horse Care– topical list of
Horseless Member Project book from 4-H
Horse Activities from American Museum of Natural History- stationary, flipbook,etc.
Horse Breed by Letter– research a favorite or specific breed
Horse Dentistry-Just like humans, horses need regular dental care. Learn about equine teeth and find out when you need to schedule a visit from the horse dentist.
Horse Fan Activity Badge Book from GS of Northwest Georgia
Horse Information and Data– anatomy, skeleton, hoof diagram, gait identification
Horse Mini-unit Study (list of activities)- explore horses and horseback riding in a high-interest, hands-on approach.
Horse Lapbook Notebook resources found on scribd- right click on pictures and select the download or arrow buttton and save as a pdf file
Horse Worksheets from SchoolExpress
Horse Owner Responsibility booklet from Unwanted Horse Coalition
Horse Stories– read stories submitted online
How to Fit a Halter for Showmanship– printable pdf
Middle School Educator's Packet– info. from International Museum of the Horse
Project Hoofbeat–  from the Virginia Racing Commission. It's filled with lesson plans including vocabulary, crossword puzzles, descriptions of various breeds, horse history timelines, and more.
Realistic Horse Coloring pages– great for lapbook elements
Rodeo and Horseback Riding Scrapbook Papers– great for journaling or decorating your lapbook or report
ThinkQuest- interactive website about horses
Stacey Mayer's Free Online Horse Coloring Books– great for older children
Unwanted Horse Coalition– booklet about how to help
White Stallion Lapnotes Copywork
Young Rider Magazine– articles about care, nutrition, breeds, and other free resources/games,etc.
YOUNG RIDER – BOOK REPORT CONTEST! ends July 8, 2013
Preschool:
 Alphabet Letter H Horse Theme– minibooks, virtual tour, writing paper, coloring pages,etc.
Horse Coloring pages– tons to choose from
3-part Farm Animal Families Cards or Farmyard Families Cards
FREE Montessori Horse Breed Cards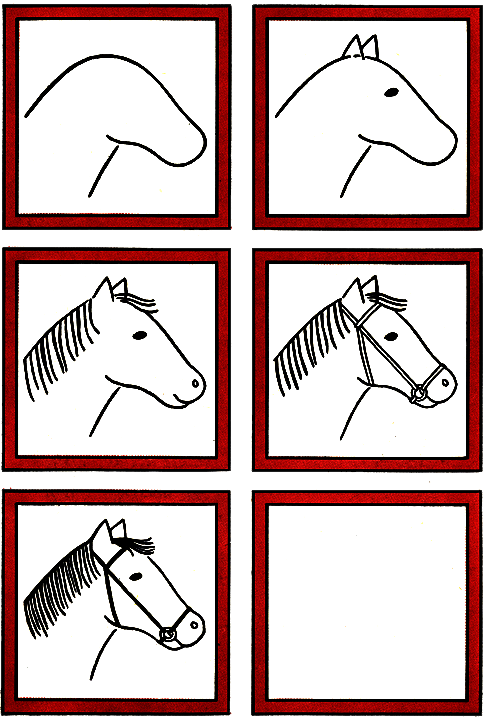 Videos:

Find more videos like this on Lapbook Lessons
Resources to buy on Amazon:
FREE Kindle books:
FREE Audiobooks:
Black Beauty Young Folk's Edition
Classic Stories/Records:
THE ADVENTURES OF THE LONE RANGER
The Little Grey Pony who Lost His Shoe
 Do you have any favorite Horse or Animal study resources? Please share in the comments below and leave a link!
Sharing this post at: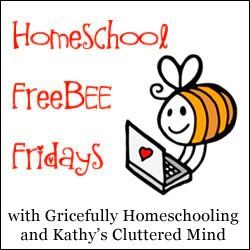 More free resources:
Here are some round-up posts with TONS of free resources for other topics as well!