10 Busy Bags I Want NEED to Make
Making your own busy bags can save SOOO much money and frustration! If you have a toddler or preschooler who you have to take with you to the doctor's, ballet class, or homeschool group and they need to be kept occupied, then busy bags are the answer!

I tried to find 10 busy bags that I already had the supplies for, but had not had the time to create,yet.  I do use the zippered pencil pouches that fit into 3-ring binder on a jumbo ring for on the go.  These are great for in the car or when we have to go somewhere unexpected. I am going to start childcare for a local Classical Conversation group next week and wanted to switch out our busy bags so Lil' Red would have something new to explore if he got bored with the kids or the selection of toys.


So a few of the items are store-bought (unless you already have them on hand like I do) like beads, felt, stickers, etc. Most families with young children already have a majority of these supplies lying around not really being put to good use. So it's time to grab some supplies and make some cute and quick activities for your little one. Use my 10 picks or view the links at the bottom for other ideas. Check out my busy bag pinterest board for over 200 ideas!
1. Magnetic Fish– so simple with felt, magnet, washers or paper clips, and hot glue!
2. Milk Jug Lids- Number or Letter activities can easily be created with Shannon's Tot School printables! I have the lids made for numbers and alphabet, but have not printed any cards to go with them.
3. Create-a-cupcake– super cute free printable from Money Saving Mom plus some felt will make these nice collection of cupcakes and toppings.
4. Create an Elmo Face– my little guys loves Elmo so this simple Elmo face might really keep him occupied especially if I cut out different expressions like happy or sad.
5. Spooning beads– (I think I just might be brave enough to try with Lil' Red. He keeps getting into our sugar bowl and grabbing the little spoon!) I found  an ice cream shaped bowl at our local dollar store.May start with larger wooden beads from beaded car seat cover that broke. Thanks Walking by the Way.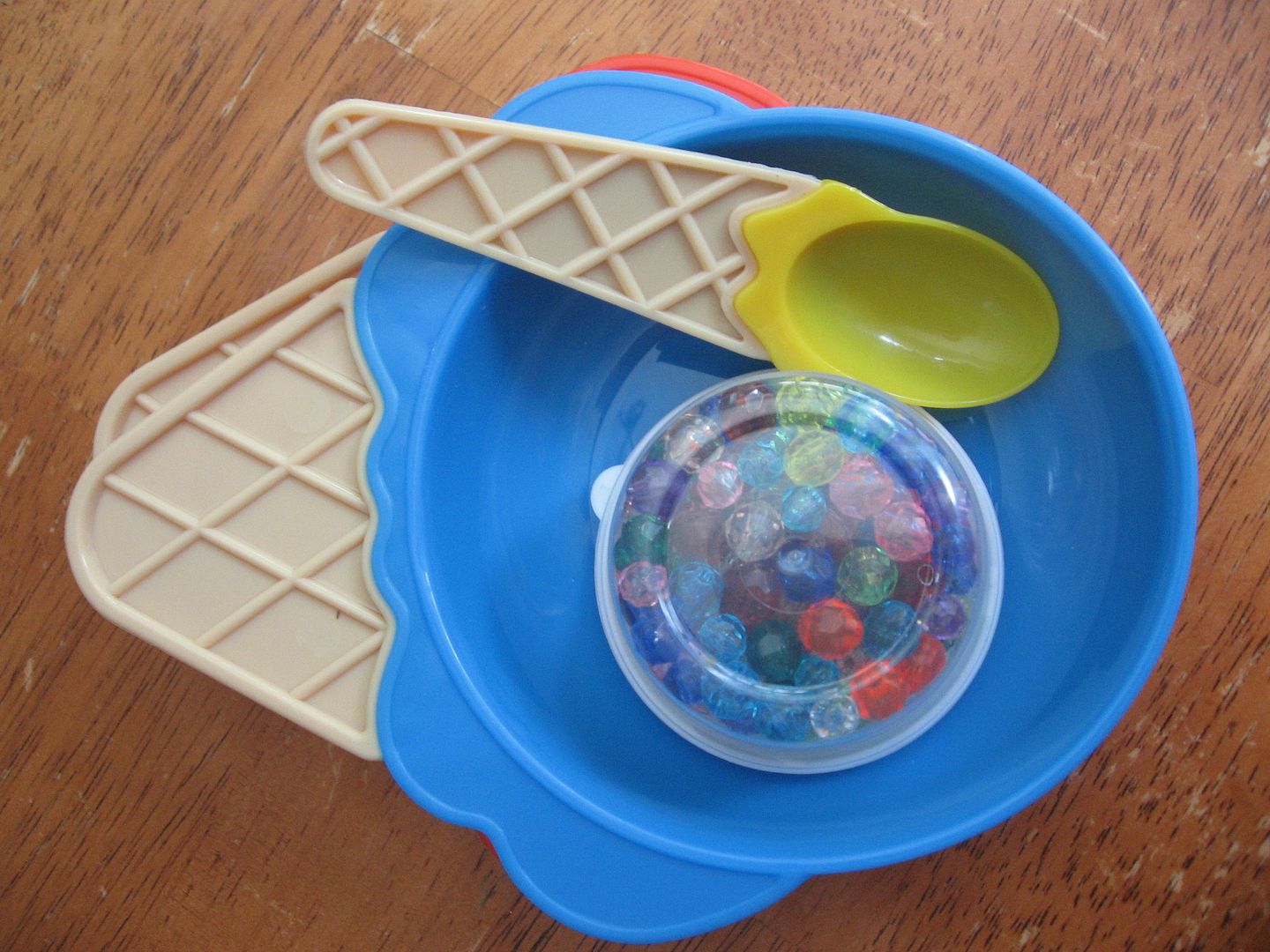 6. Lego/Duplo Block building book– great way to help your little one learn about pattern and matching from Kids Activities Blog using Duplo blocks.
7. Bath Mat Marble Game– cute idea I've been meaning to let Lil' Red try. I even have feet bath mats  and starfish mats found at Dollar Store for $1 and Rose's for $2.50. (our local Walmart no longer carry these the last 2 times I checked.) I might try it with pom-poms first to see if he figures it out. Do not want any swallowed marbles! Counting coconuts makes it seem so easy to put trays together.
8. Sticker Fun– simple, fun but very good for fine motor skills. For on the go draw shapes on index cards and place in your busy bags. Add in a sheet of stickers and you are good to go! Great idea from ABC and 123: a Learning Cooperative.
9. Foam tray and Toothpick wine dauber– much safer than the jumbo push pins most people use. (not saying this wouldn't/couldn't be dangerous especially if you have a toddler AND baby in the house.) Not as sharp. Homemade and recycled, gotta love that. Thanks Create with Kids!
 10. Fabric Marble Maze– on my to-do list. Not sure how long it would keep Lil' Red's attention, but something Eldest and Princess might like as well:) Found on Serving Pink Lemonade!
Ultimate Busy Bag Guide from Walking by the Way- do not miss this list!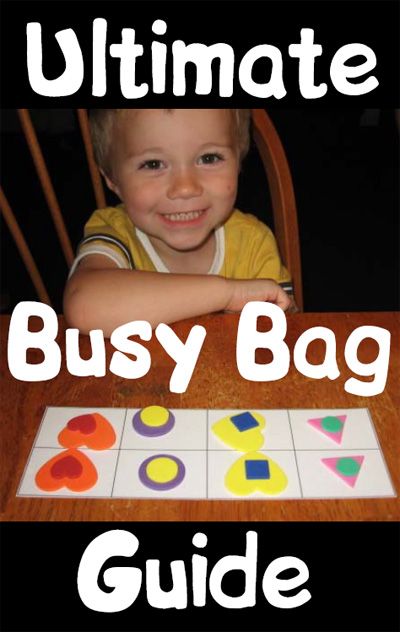 Idea List for Toddler & Preschooler Activity Bags
MORE BUSY BAG RESOURCES:

Easter Busy Bags

Rainbow Busy Bags

Vehicle Busy Bags